Social Security Disability
Hello, my name is Dirk May. I am a Social Security Disability attorney in Bloomington, Illinois with the law firm of Williams and Swee. I represent people throughout Central Illinois who need Social Security Disability. This includes Peoria, Bloomington, Normal, Springfield, Pontiac, Decatur, Lincoln, and Champaign and Urbana, Illinois.
I help people from the application stage to the hearing and appealing to the appeals council, if necessary. It is enjoyable to help people through the process and get the life long benefits you deserve and have worked for over the years. I also make home visits to help you in your Social Security Disability case if you cannot get a ride or do not feel well.
Please call me if you need advice or would like to discuss any part of the Social Security Disability process.
Illinois Workers' Compensation
I am an Illinois Workers' Compensation lawyer with the law firm of Williams and Swee who concentrates in representing injured workers who have had surgeries.
I make house calls to help you out. When you are injured at work it should be about you and your needs. When you have been injured at work you should not have to go to a lawyer's office, I will come to your house. When you have unpaid medical bills you should not have to go to a lawyer's office, I will come to your house. When you are not being paid you should not have to go to a lawyer's office, I will come to your house.
If you live in Central Illinois- Peoria, Bloomington, Springfield, Champaign- and have had surgery or need surgery please call workers compensation lawyer Dirk May. Workers compensation may also be known as workers comp, workmans compensation, or workmans comp.
About Dirk May
In law school, Dirk worked with Legal Services, assisting lawyers who represented low income clients in Social Security cases. In 1983, he moved to Springfield, Illinois and worked in state government. Eventually, he represented disabled people in Social Security Disability cases while in private practice. He went on to represent consumers and disabled individuals before the State Legislature. He also worked for the Workers Compensation Commission in Springfield, Illinois. Dirk travels to Peoria, Springfield, Champaign and Decatur to represent injured workers in Workers' Compensation trials as well as Social Security hearings, in addition to handling a large case load in Bloomington.
Call Attorney Dirk May at (309) 827-4371. There is no charge to discuss your case.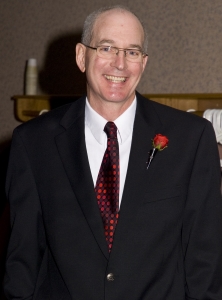 Postings to this site do not constitute legal advice. You need to contact an attorney to discuss the specific facts regarding your case, and should not rely on the information posted on this site as establishing an attorney-client relationship.